20 Years of Imagination in the Making!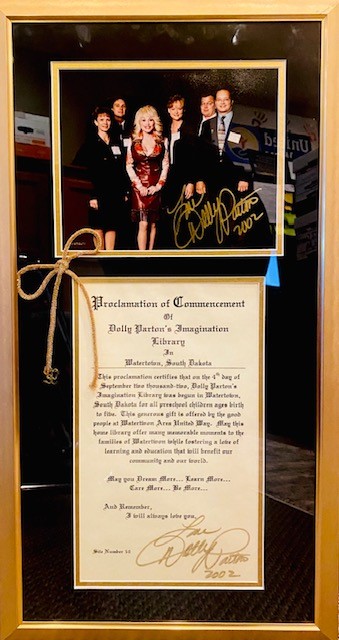 "On the 4th day of September two thousand-two, Dolly Parton's Imagination Library was begun in Watertown, South Dakota for all preschool children ages birth to five. This generous gift is offered by the good people at Watertown Area United Way. May this home library offer many memorable moments to the families of Watertown while fostering a love of learning and education that will benefit our community and our world. May you [Watertown] dream more… Learn more… Care more… Be more…"  as proclaimed by the Imagination Library founder herself, Dolly Parton.
In 1995, Dolly started the Imagination Library in Tennessee as she was inspired by her father's inability to read nor write. Imagination Library offers infrastructure to local affiliates such as a book order system and wholesale purchasing. Watertown Area United Way is an affiliate and is responsible for program promotion, enrollment, database management and secure funding. United Way partners with Imagination Library to ensure local youth can have a great selection of books at home in addition to their local library's selection. "You can never get enough books into the hands of enough children" as said by Dolly Parton.
For 20 years, local youth have been blessed with the gift of reading thanks to the partnership between Watertown Area United Way and Watertown Regional Library. Currently, over 760 youth receive a free age-appropriate, quality book each month at their doorstep. Over 3,760 youth have graduated from the program and almost 200,000 books have been mailed. Eligibility is as follows: youth ages 0-5 residing in Codington County and youth ages 0-5 with a parent/guardian working in Codington County. No income restrictions or restrictions on number of youths per household. To register youth can call (605) 886-5815, go to  https://imaginationlibrary.com/usa/affiliate/SDWATERTOWN/, or mail forms to United Way directly at P.O. Box 283, Watertown, SD.
Two books annually are bilingual and audio/braille copies are available for families with anyone who is audibly or visually impaired. Imagination Library can offer these inclusive resources thanks to their partnership with American Printing House. More information at https://www.aph.org/braille-tales/.
Annually, the program costs about $20,000 which is covered by Watertown Area United Way. United Way is thankful for champions like Women and Giving with the Watertown Area Community Foundation, Dollar General's Literacy Foundation, and United Way donors who help raise necessary funding. Books cost $2.10 each or $26 for a child for one year. A $130 donation can sponsor a youth for the entirety of the program. Donations can be sent to United Way at P.O. Box 283, Watertown, SD or made online at www.watertownunitedway.org.
Parents/guardians and children alike cannot hold back their excitement for the monthly gift. "She is always so excited to get her Dolly Parton's Imagination Library book in the mail that we can't even wait to go inside to read it" said Kelly DPIL parent. Not just parents but older siblings even look forward to the arrival of books. Brianna, another DPIL parent, exclaimed "My two older kids love reading the books we get to their baby brother!"
During the first few years of a child's life they are exposed to tens of thousands of words simply by listening. The words they hear and read will develop their early vocabulary and influence their life-long language, grammar, and reading abilities. Research shows the average child from a professional household hears 215,000 words per week; children in working-class homes hear 125,000 words per week; and children receiving welfare benefits hear about 62,000 words per week ((Hart & Risley, 1995) Meaningful Differences in the Everyday Experience of Young American Children | LEADERSproject). Therefore, early childhood literature is crucial for youth development.
Jan DeBerg, Watertown Area Community Foundation Director said "2002 was a long time ago, but I remember how excited the Watertown Area United Way Board members and I were about the opportunity for our community with the Dolly Parton Imagination Library.  I'm so thankful that young children here are still enjoying the Imagination Library today."
Having this program available in our primarily rural community can make a life-long impact on today's youth. United Way would like to thank those who brought the program to the Watertown Area, local partners who help maintain the program, and to the United Way donors and grantors who have aided in gifting books to thousands of community youth for 20 years and will help United Way continue to give the gift of reading for years to come.
Watertown Area United Way is a 501(c )(3)nonprofit community based organization whose purpose is to assist in meeting basic human care needs for Watertown Area residents. United Way focuses on meeting education, health, and financial needs by allocating funds to 38 local programs. Watertown Area United way is the sponsor and operator of both Dolly Parton Imagination Library and the summer Delta Dental Mobile visit.
Imagination Library is a global 501( c)(3) nonprofit organization who has mailed over 190 million books since its start in 1995. Each year, Imagination Library sends a full program-year set of books to the Young Readers Center at the Library of Congress so all children who visit the Library of Congress will have access to the specially curated selection of titles from our Blue Ribbon Selection Committee.