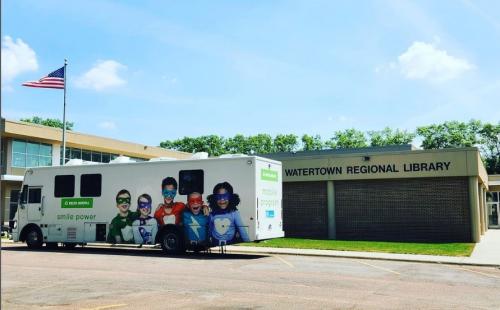 For youth ages 0 to 21, who do not have access a dentist because of the cost, lack of insurance, transportation, or other reasons the Delta Dental Mobile will provide care at no cost. Children from their 1st tooth through age 21 are eligible. A full range of dental care is available, including exams, cleanings, preventive treatments, and cavity fillings. Oral health education is also provided to patients, so they can continue to care for their teeth after the visit.  Services are provided at no cost to the child or family.  No insurance is necessary.
The mobile dental truck's visit is a partnership between Watertown Area United Way and Delta Dental Mobile Program which started in 2011. During the last Delta Dental Mobile visit in June of 2023 the bus provided $68,604.000 worth of dental care to 70 children. Through the preventative, diagnostic, and restorative procedures done by Delta Dental our Watertown Area youth will glow with confidence and clean smiles! In 2023, 437 sealants were placed, most of our patients were between the ages 6 and 12, and 20 youth had never seen a dentist before. To view the 2023 report, click here. 
The Delta Dental Mobile Program provides oral health services to children and includes two mobile dental trucks that travel across the state.  The trucks have been in 81 communities throughout South Dakota and provided more than $17 million in dental care since the program began in 2004. 
Registration is needed in advance and a patient must complete both the consent and information forms provided below or complete on-site the day of the appointment. To make an appointment, please call the Watertown United Way office at (605) 886-5815 or email director@watertownunitedway.org for more information. 
Thank you to all the Watertown Area United Way donors who make the Delta Dental Mobile possible! 
Please bring a filled-out copy of the Patient Information Form and the SDF Consent Form below per child to your child's appointment or email them ahead of time to director@watertownunitedway.org. You can also fill out a paper copy the day of at the check in table.  
Patient Information Form (English)
Patient Information Form (Spanish)
Please read the forms below before you come about privacy and confidentiality.  
Delta Dental SD Notice of Privacy Practices (English) 
HIPPA Notice of Privacy Practices (English)
HIPPA Notice of Privacy Practices (Spanish)