New Annual Campaign Signs Made in 2022
For years the Watertown Area United Way campaign signs have been known to highlight campaign progress across town in high traffic areas. Somewhere around the 1990's the first campaign signs were made by Bob Graf. The signs had the iconic heart that filled as funds were raised. for every 10% a magnetic strip was placed on the heart to show where United Way was in annual campaign. At the top would be the campaign year and goal.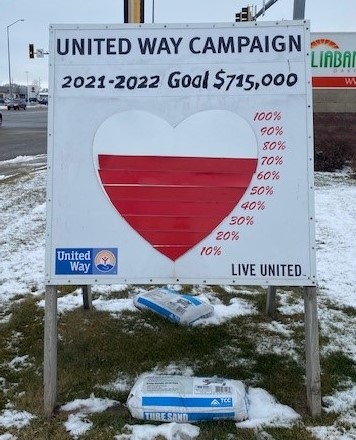 As the signs hit 20 years of age the United Way Board of Directors knew that new signs were overdue. The Executive Director worked with Innovative Fabricators to design a new sign that weighed less, was easier to transport and store, was more appealing, could stand against South Dakota winds, and effectively track campaign progress. Sign volunteers, United Way staff, and Board of Directors brainstormed a design where two aluminum frames would come together, the heart would be a cutout instead of an additional piece of metal, could stand against wind but not require sandbags or stakes to hold down. From there they discussed partners to bring on the project and possible grants that would assist with costs. Due to the recent global pandemic the cost to create sign raised dramatically and would increase prices of materials consistently throughout the project. From there the team went to work. Innovative Fabricators produced the first sign in the Spring of 2022 and the remaining five were made over the summer.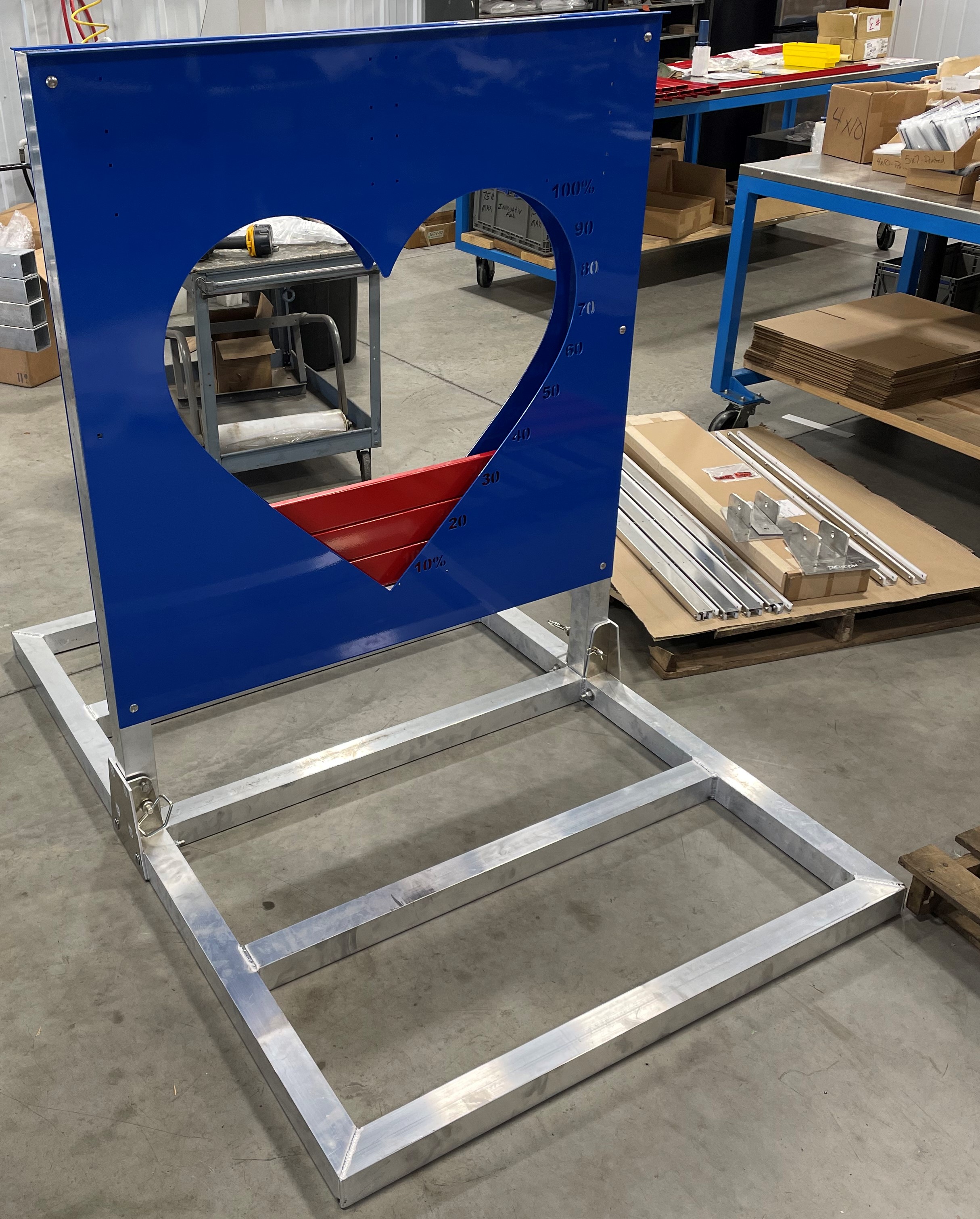 A ribbon cutting was scheduled Fall of 2022 to showcase the new signs and celebrate a new sign location. United Way traditionally had five signs stationed at the locations below. In 2022, First Premier Bank east location was added to the list. Thank you to these businesses who loan their prime real estate to United Way during the annual campaign to help raise awareness among community for United Way campaign!
Annual Campaign Signs Locations:
- Reliabank, West Location
- Reliabank, North Location
- City of Watertown Airport
- Cowboy County Store, Intersection of 81 & 212
- First Bank & Trust
- First PREMIER Bank, East Location
Thanks to Nathan Graf, owner of Sign Pro, the graphics will be donated in-kind each year so more donor dollars can be directed to agency programs rather than administrative costs. It was fun to bring in the son of the original sign maker Bob to help United Way with this historical project for the organization. Every First PREMIER Bank and PREMIRE Bankcard helps provide volunteers to setup and take down signs.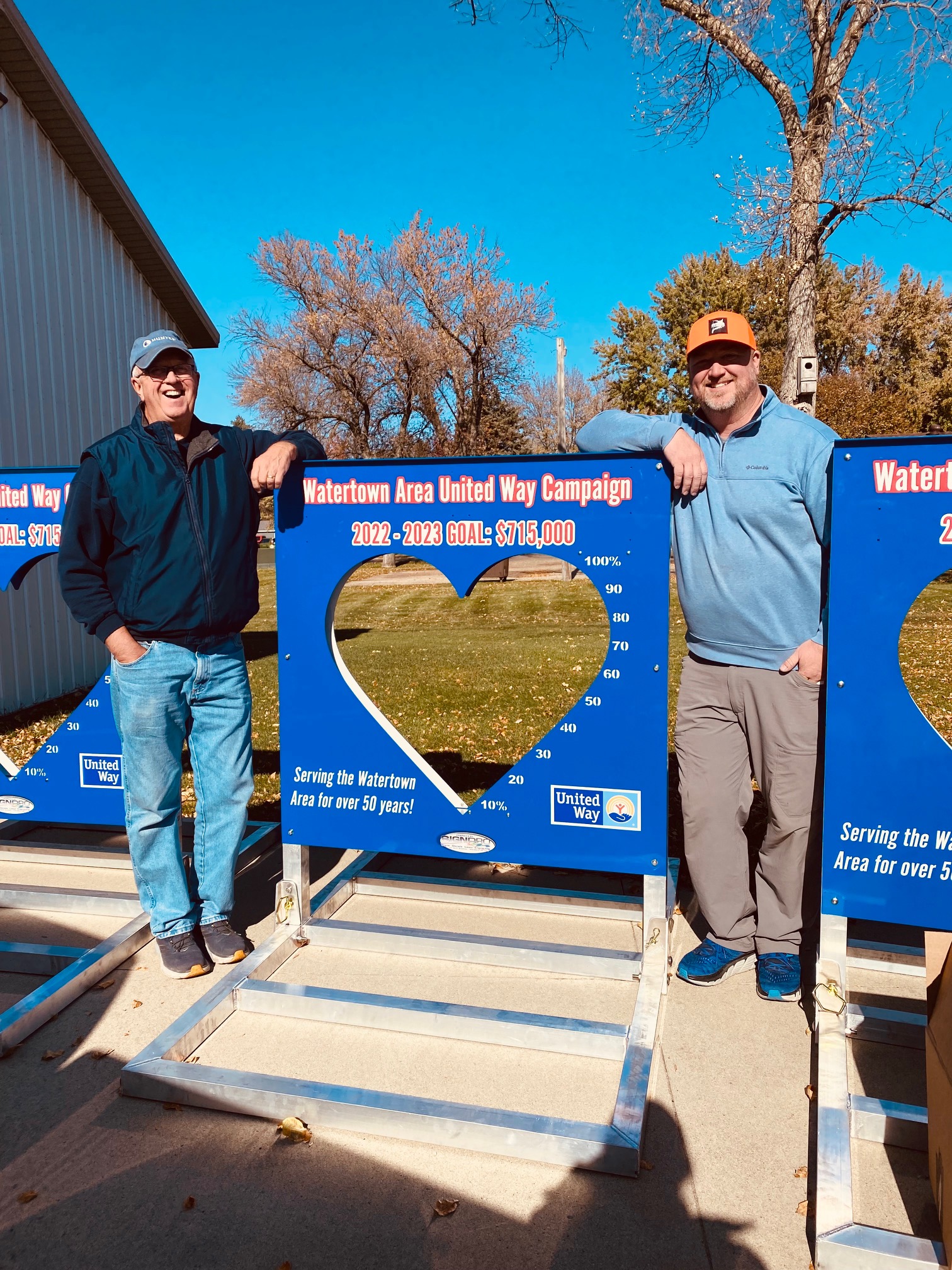 Once the signs were complete and setup it was time to celebrate. Thanks to First PREMIER Bank east location United Way was able to host a ribbon cutting for the signs! First PREMIER Bank loaned their facility, donated lunch and refreshments. PREMIER all together allowed staff to come to the event and gave them a Jeans Day in celebration. The Watertown Area Chamber of Commerce made sure to help promote the event along with the Watertown Area Community Foundation. The Watertown Area Community Foundation was the largest funder of this project donating $6,000. To recognize their generosity, you can find their name along the sides of the signs. 
On the day of the ribbon cutting past 2021-2022 Campaign Chair Molly Lindgren, owner of Molly Lindgren Photography, donated in-kind photos of the event. That day of 60 people were in attendance representing funded programs, current United Way Board of Directors, past Board of Directors, past United Way staff, annual campaign businesses, other chamber member businesses, annual campaign volunteers, past Campaign Chairs, City leadership, Watertown Area Community Foundation, local media, and the general public.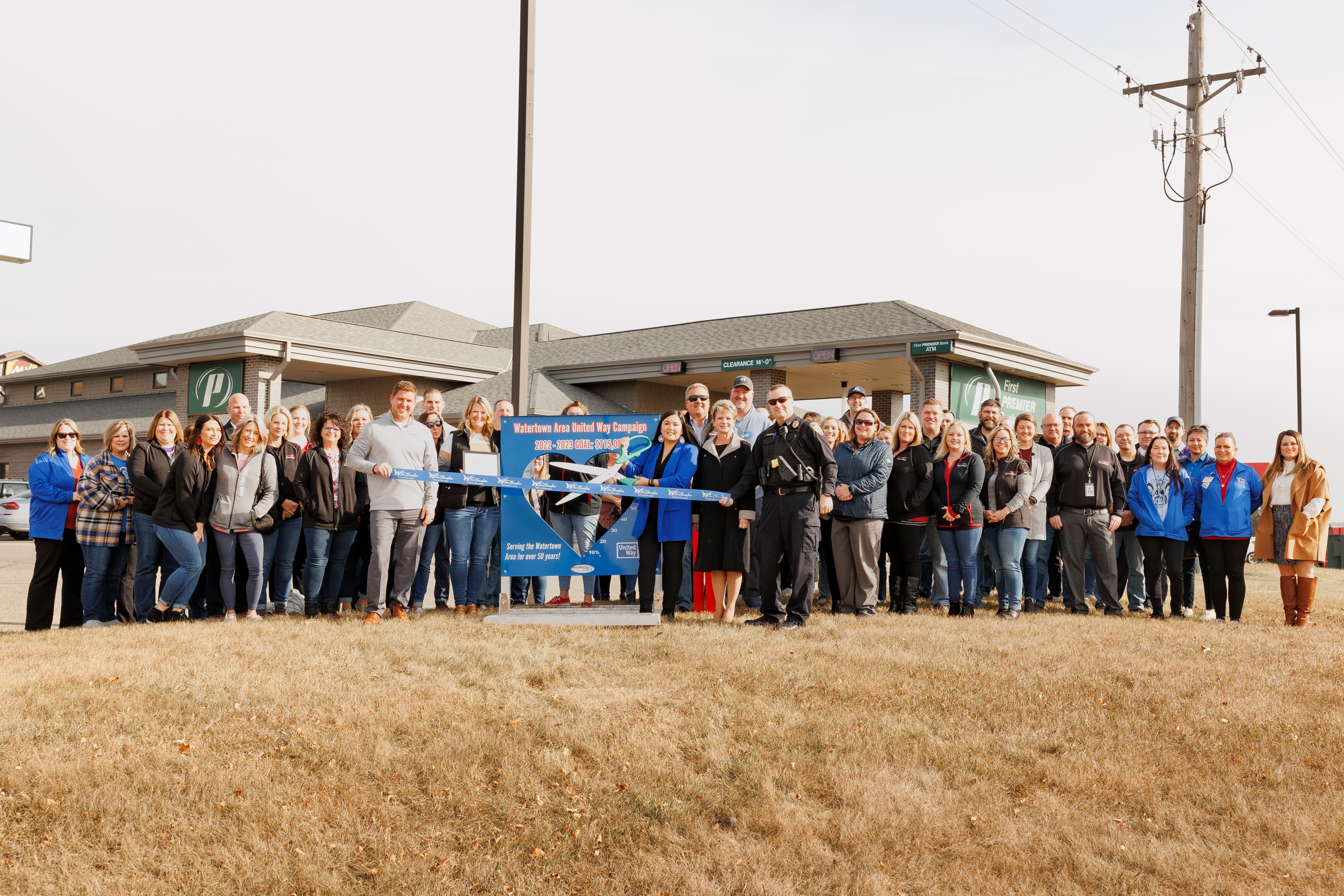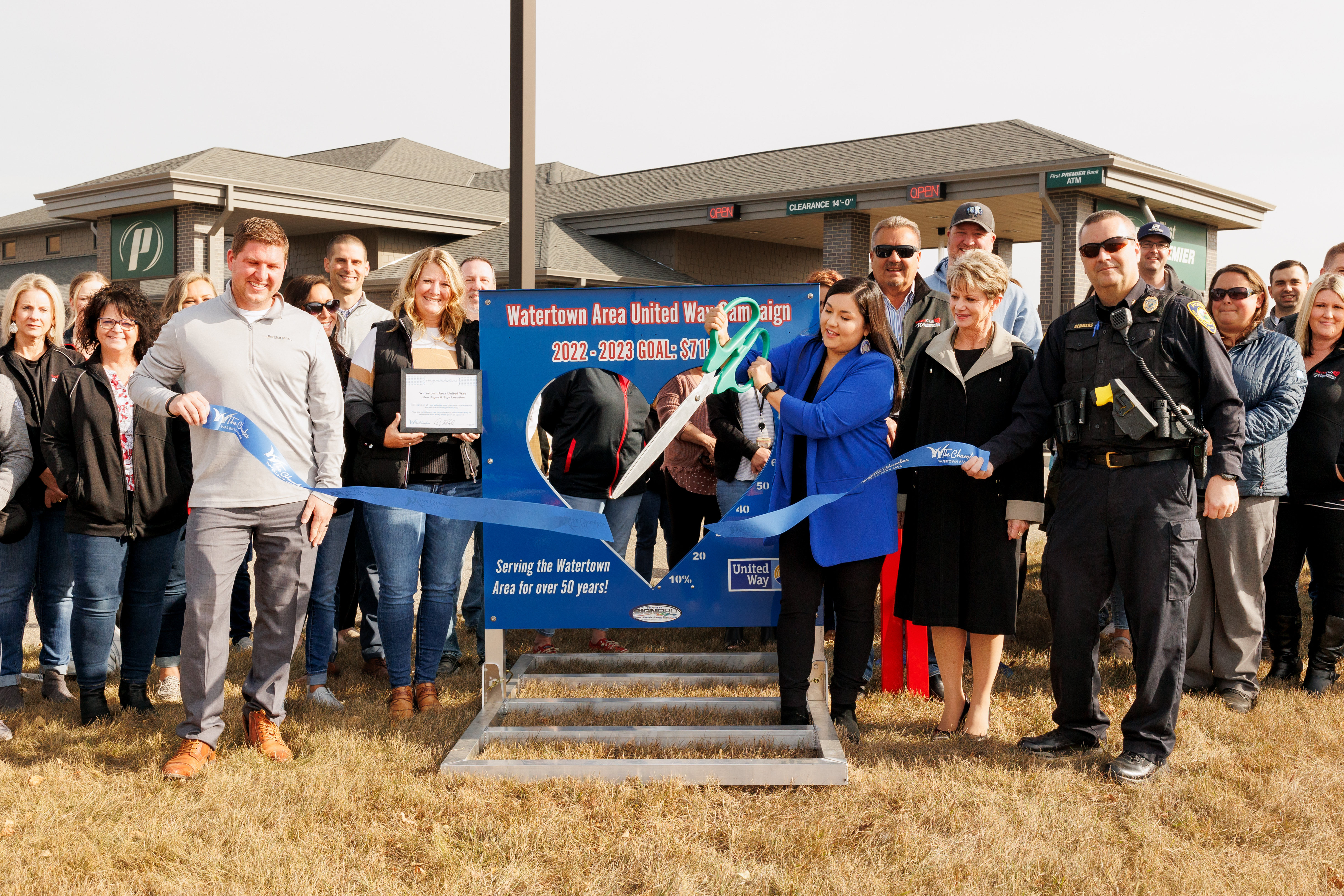 Thank you to the many partners that made this project possible! It truly took an army of individuals, businesses, and other community partners to dispose of the old signs, design new, fund the project, and ensure sustainability. If you would like to support United Way and our network of funded programs, make sure to be on the lookout these new signs and help us raise 100% of our annual goal. Funds raised and in-kind donations of services can help our program partners meet the most basic human care needs. So that our programs and United Way can help thousands each year with educational, health, and financial needs please visit Annual Campaign to learn how you can help.